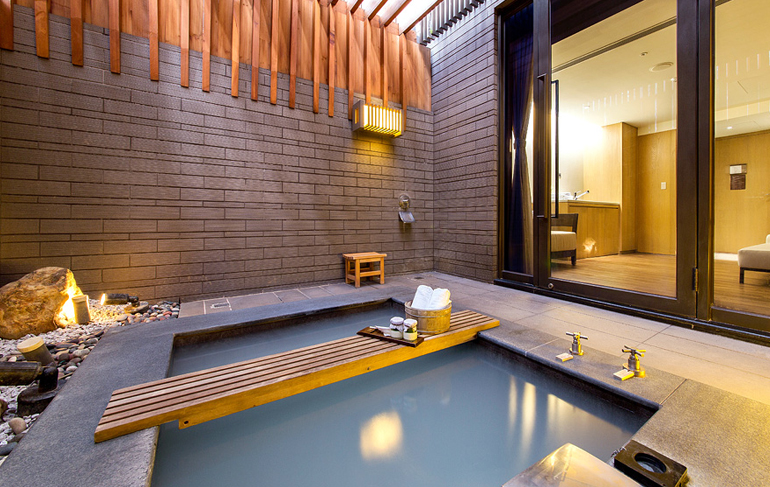 2022 Hotspring day trip
Date:2022/4/1~2022/9/30(Reservation Only)
Package 1-Light Meal and Public hot spring  NT$ 1,950 / per person
-Public hot spring (single entry)
-Aqua Deck / Chinese Cuisine light meal for 1 (each set valued at NT$750+10%)
Package 2 -Afternoon tea and Private Hot Spring Room  NT$ 3,050 / 2 people
-NT$2,300 Private Hot Spring Room (90 mins)
-Aqua deck Grand View Afternoon tea set for 2 (each set valued at NT$800+10%)
Package 3 -Lunch and and Private Hot Spring Room NT$ 3,950 / 2 people
-NT$2,300 Private Hot Spring Room (90 mins)
-C'est Bon / Chinese Cuisine lunch set for 1 (each set valued at NT$1,280+10%)
※Notes
1. Reservation only, and should be made at least 1 day before you use the package please call:02-2898-8888、Email:rsvn@gvrb.com.tw
2.Following Special day(5/8)can't use day trip package。
3.Chinese Cuisine/ C'est Bon meal supply hours:
Lunch 11:30~14:00 (latest ordering time is 13:30)
Dinner 18:00~21:00(latest ordering time is 20:30)
Afternoon Tea 14:30-17:00(latest ordering time is 16:30)
4.The package lunch can't be changed.
5. Contents unused may not be postponed for the next time or redeemed for cash; the above package rates cannot be combined with any other promotions.
6. Public hot spring Opening Hours : 07:00-23:00 (Last entry 22:30)
7. Public hot spring : 4 hours for use (single entry),For all guests privacy, please do not use electronic product in public hot spring area,and due to safety considerations, only guests above 12 years old and above.
8.Public hot spring maintenance hour
October-April-First and third Monday of month after 11PM are closed for maintenance.
May-September-First and third Monday of month from 7AM to 3PM are closed for maintenance.
9.Private Hot Spring Room open 24 hours, reservation is required, only accepted the reservation 1 month in advance.
10.Every hot spring suite allows 2 guests. (Due to safety considerations, 1 guest can't use the private hot spring room)
Additional fees for additional guests:
115 cm and taller, NT$600 is charged per additional guest.
115 cm or below is free, limited to an addition of 2 guests.
11.Please refer to the hotel on-site announcements for unmentioned matters.