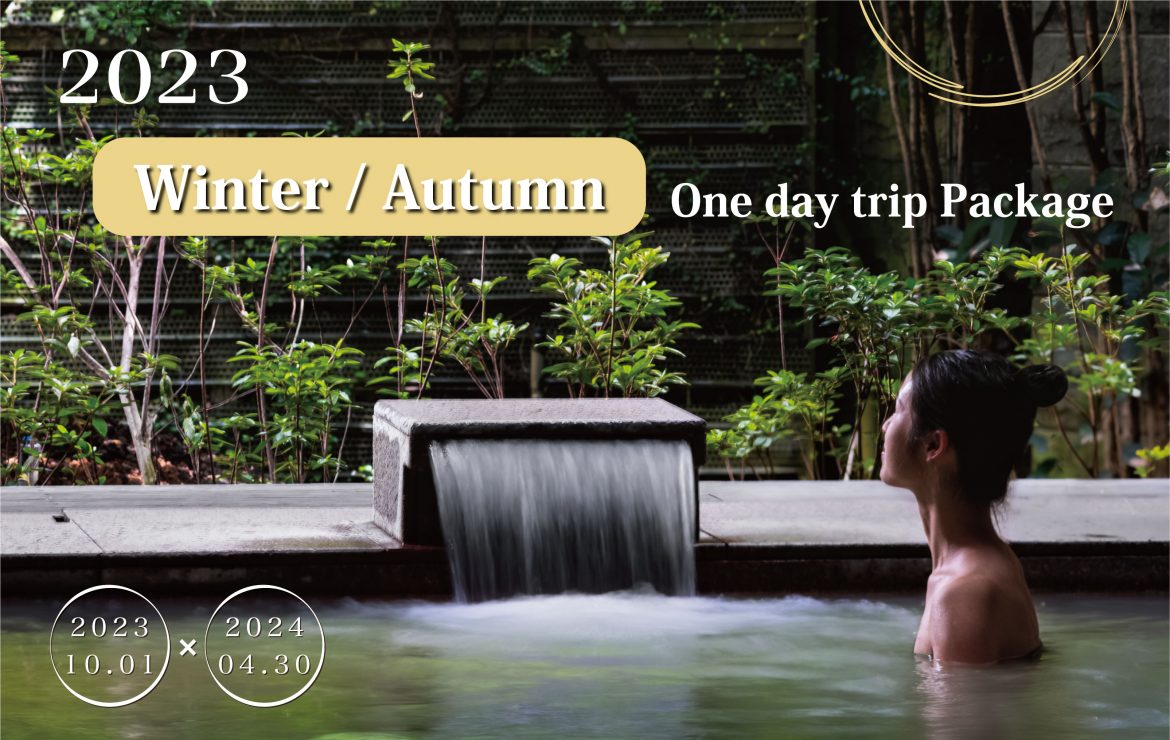 2023 Winter/Autumn One day trip Package
2023 Winter/Autumn One day trip Package
Hot Springs | Lunch Set | Afternoon Tea
2023.10.01 – 2024.04.30
If you're planning a relaxing vacation with your loved one, Grand View Resort Beitou's One day trip Package will fill your heart with the warmth of hot springs, and its delicious cuisine will create lasting travel memories.
▸Public hot spring w/ Lunch (1 set): NT$2,650
Applicable from Monday to Friday, not applicable on Saturday, Sunday and special holidays.
▸Private hot spring room w/ Lunch (2 set): NT$4,950


Applicable from Monday to Sunday, not applicable on special holidays.
▸Private hot spring room w/ Afternoon Tea (2 set): NT$3,800


Applicable from Monday to Sunday, not applicable on special holidays.
Notice for bookings
1.Date of the one-day tour package: 2023/10/1 to 2024/4/30
2.The hot spring package applies to weekdays and weekends for 2023 and 2024 as defined by the Grand View Resort Beitou, it does not apply to special holidays.
3.Special holidays: Christmas Eve 2023/12/24 (Sunday), Christmas 2023/12/25 (Monday), New Year's Eve 2023/12/31 (Sunday), New Year's Day 2024/1/1 (Monday), Chinese New Year 2024/2/8-2/14 and Tomb Sweeping Day long weekend 2024/4/4-4/7.
4.If you wish to upgrade your private hot spring room, you need to make up for the difference in price as indicated on-site; the above package comes with a fixed set meal but you may upgrade to other set meals at an additional cost.
5.The contents of the one-day tour package must be redeemed on the same day and the above package may not be used in conjunction with other discounts.
6.Booking in advance is required for the above package. You must make a reservation with the restaurant and hot spring house for the lunch set meal, afternoon tea and independent hot spring room.
Public Hot Spring Notice
1.Opening Hours : 07:00-23:00 (Last entry 22:30).
2.Separated into male and female nude bathing areas, each area features hot spring pools, cold water pools, stone baths, steam rooms, saunas, and relaxation areas.
3.Only guests aged 12 and above are allowed.
4.Hotel guests have unrestricted access to the hot spring area, while outside guests are allowed a single entry for a maximum of four hours.
5.Outside food is not permitted. Maintenance is scheduled regularly, and management will notify guests in advance of any upcoming maintenance.
6.The maximum capacity for on-site use is 30 people, and the 31st person will need to register on-site for a waiting list.
Private Hot Spring Rooms Notice
1.There are three types of rooms: semi-open-air, indoor with an external window, and fully indoor without an external window.
2.Reservations can be made up to 24 hours in advance and all the way back to one month in advance. The basic occupancy is 2 people, and for safety reasons, single occupancy is not accepted.
3.Additional guests: Each room can accommodate up to 2 additional people. For guests over 115cm, the charge is NT$600; for guests under 115cm, there is no charge.
4.Each room can be used for 90 minutes (Rose Bath, 120 minutes), with an additional charge of NT$800 for every half hour beyond the allotted time.
5.Each room provides two exquisite snacks. Outside food is not permitted.
Reservation
TEL: +886-2-2898-8888
Email: rsvn@gvrb.com.tw